HISTORY OF ARGENTINIAN SCHOOL TEXTBOOKS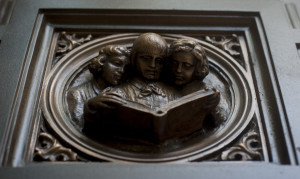 The Digital Library of the History of Argentinian School Textbooks contains a collection of schoolbooks, organized chronologically by subject matter, obtained from the  Biblioteca del Docente,  Ministerio de Educación, Ciudad de Buenos Aires.
The Biblioteca del Docente has collaborated extensively over the years with the MANES Research Center, having catalogued its store of school textbooks on the MANES database. As part of an agreement with the Biblioteca del Docente, MANES has also offered to host this interesting Digital Library.
This Digital Library will continue to be furnished gradually, as the digitalization process moves forwards.
Access to the Digital Library "History of Argentinian School Textbooks"
Video of congratulatory message from the Biblioteca del Docente for the 20th anniversary of MANES (November, 2012).
Video "La Puerta Historiada. Una autobiografía" (2018). Author: Lic. Mabel Stilman Kolesas, Director-Organizer of the Biblioteca del Docente (1996-2015).